For most of us, the holiday season brings a sense of lack of time: The relatives will be here in an hour! The cookies need to be made tonight! We're late for the party!
And all mixed up with this sense of urgency is a huge ball of emotion.
For some, the season is one of joy and fulfillment, a time of laughter and family closeness, a time of, well, time. Time to reconnect, time to share, time to celebrate.
For others, this time brings anxiety, sadness, guilt, or the opening of old wounds, especially when the holiday means spending time with family who are, shall we say, difficult. The time drags on and on, with the main goal being to get through to the other side.
I know that I easily fall prey to the get-the-decorations-up, rush-to-the-store, clean-the-house, call-Great-Aunt-Dottie, organize-the-party, get-the-gifts-for-the-sponsored-family, ohmygod-the-cat's-licking-the-turkey, give-me-another-glass-of-wine frazzle.
Breathe.
However you feel about the season, let time be your friend. Allow your time together as a family this holiday to help you look forward while enjoying the present with your children and remembering the past with fondness. Look toward the year ahead (or the years ahead) and know that you're establishing traditions and closeness that will last forever.
Sleep. Snuggle. Share. Smile.
The bonds that you establish now will last your children's lifetimes - and their children's.
No matter how you feel about the holidays, you can know that you're giving your children this most precious of gifts: time. The time that you spend together doing the mundane things - making cookies, driving around looking at holiday lights, shopping for gifts for Secret Santa, or even rushing to get the ham in the oven - is time that you're spending together.
Time. These precious seconds of closeness turn into years of delicious remembrance.
*****
This month please welcome Nickie Minor, of API of Metro Jackson, Mississippi and Nicole Barajas, of API of Portland, Oregon. Welcome, Leaders!
Camille North,
API Links Editor
Please let us know what you like and what could be better about Links - contact us at apilinks@attachmentparenting.org.
You can forward this enews to a friend.
API is a free enewsletter, dedicated to bringing you information to support you in your parenting journey.
---
Dear API,
Like many of us today, I open e-newsletters when I can, if I can find the time and often find myself cleaning out the email box months down the road deleting all the "would have/should have" reading that I would have liked to have done.
 
One exception is the API email, which I try to open within a week of receiving. I always find inspiration and tools for my parenting tool belt in these newsletters. The November API links was absolutely heart-warming and endearing to me, because like Camille, I have "that kid," an intense, emotional, heart wrenchingly sweet five year old, who is big brother to a three year old and has led us on a parenting journey that we didn't expect, nor feel prepared for. We've scrambled to catch up, add knowledge and understand his needs all the while riding a roller coaster of ups and downs as my son has gingerly grown up from a baby to a toddler to a young boy. We fret, over analyze and constantly worry; but through it all we simply hold him, cuddle him and pour even more love and acceptance his way to let him know that he is okay. He is doing just what he needs to do to grow and experience life his way.
 
It is incredibly comforting and reassuring to read Camille's story and it is now clipped and taped to the fridge. Thank you, Camille. Your story will be my reminder that although painful at times, I need to enjoy the journey.
--Kate Byars, member of API Jacksonville, Florida
---
Shop in the API Store
Purchases made before December 20 will arrive in time for Christmas!
---
Attached at the Heart makes a great gift!
Attached at the Heart is available now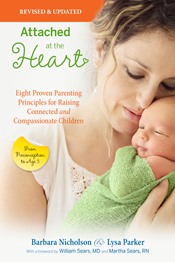 The new edition of Attached at the Heart is available now from your favorite retailer.
---
API Volunteers Make
All the Difference
See the messages from the AP community in acknowledgment and appreciation for all our volunteers do for families.
Thank you to all the API volunteers, from 1994 to today!
---
---
Do Well and Do Good...
Support the mission of API and connect with your target audience.
Contact advertising@attachmentparenting.org
to help you create an advertising package to fit your message and budget.
---
API is proactively engaged with organizations with diverse missions and activities in order to leverage and expand our work in supporting all parents, children and families to promote secure attachments and strong, positive relationships.
---
Want to Change a Life?
You can now apply online
and learn more about
becoming an API Leader!
---
Did You Have an Aha! Moment Reading One of These Links?
If so, we couldn't be more pleased to serve you. Help us serve others too. Please consider donating $20, $10, or even $5. API is a non-profit organization and it depends on your tax-deductible donations.
---
Photos by A. Davey from here and by tiffany terry (libertygrace0) from here.
---
Quick Links
---