As we close the year and close a season of dedicated and amazing volunteer work by Camille North, API Links editor for the last six years, please enjoy these heartfelt words of encouragement and farewell.
As it happens with all of us, I've reached a new stage in my life, one that has to do with helping kids launch and taking care of aging parents. While Attachment Parenting has served our family well-and continues to do so, even as my kids make the gradual shift into adulthood-my focus has turned inward, more toward taking care of myself as I care for my mother.
I've been the editor for API Links for the past six years, and this is the hardest opening letter I've written. And it will be the last. 
Let me leave you with a few pieces of AP parenting advice that I've learned over the years. Maybe some of it will help. As with all things, take what works and leave the rest:
Relax and enjoy. If this seems impossible, then see #2.
"This too shall pass." I had an extraordinarily high-needs first baby (born more than three months premature and the poster child for "spirited" kids), and I should have tattooed that saying on my forearm so that I could be reassured that the ________ wouldn't last forever. (Fill in the blank with the never-ending issue of your choice: meltdowns, marathon nursing, colic, nighttime wakings, fit-pitched-over-not-getting-the-green-cup, toes-bothered-by-sock-seams, or build-your-own calamity.) It will pass. Really. And when you look back on it in ten years, you'll wonder why it was so hard. Really.
Learn four phrases and use them when appropriate: "I love you," "I made a mistake," "I'm sorry," and "I don't know." You'd be surprised how much trauma/angst/unsettledness can be alleviated with one of these. 
It's okay to say no. 
"Pass the salsa." AKA, "Pass the bean dip." (http://www.joanneketch.com/ParentingChoiceBoundaries.en.html)
You'll remember the little things, as well as the big things, so do lots of little things. You'll remember how the water droplets from the plastic wading pool stuck to the end of your daughter's eyelashes and turned into jewels in the sunlight. Or the day at the grocery store when you were complimented on your beautiful girls, because your son wanted to wear a tutu like his older sister. Or your baby's insistence on twisting your hair while he nursed. Innumerable magical, precious, personal tiny things that are unique to the relationship with your child and your family-the results of being there, being present for your child.
Let your kids fail. By working through failure when they're young and the stakes aren't so high-and by ultimately succeeding-your kids will learn to persevere. And when you're there to support them safely through failure, they know you'll always be there for them.
It's there, and it's gone. Everyone says it, but you don't understand it until it happens to you. Childhood is fleeting. Take a minute or two each day to overlook the vomit on your shoulder or the pile of dirty laundry to notice the down on your baby's cheek or the ringlet falling across your toddler's forehead. Turn around twice, and the down turns into stubble and the ringlet becomes a pink lock over a lined eyelid (still precious, but not quite the same).
Take the last cookie and put on your oxygen mask first. AKA, take care of yourself. And be gentle with yourself. As I've jokingly reminded my kids again and again, "If Mama ain't happy, ain't nobody happy." Truly, you have to keep your mental health so that your kids can keep theirs, and they need to know that Mama is a person with wants and needs. This was something I was terrible at, but it's necessary. It's important to let your children see you reading a book, taking the last slice of birthday cake, or peeing with the door closed. I'm getting better at it. 
Take care of your partner. If you're lucky enough to have a great partner, nurture that relationship with as much commitment as you do the one with your children. The kids will move out in the blink of an eye, and your relationship with your partner will be what's staring back at you when the house is quiet and you've made too many pancakes.
It's worth it. Really. Ignore the well-meaning advice of mainstream parents who say you're coddling your child by meeting your baby's needs. Your roots will give your child a solid foundation. Your connection will mean you know, really know, your child all the way through childhood, into adulthood.
Every stage is better than the last. Trust me on this one. (Yes, even the teen years.)
Thank you to API for allowing me the opportunity to share my thoughts with you these last few years. It's been a real honor, and I'm a better person for it. 
Camille North
Editor, API Links 2010-2015
Congrats, API Leaders!
December Anniversaries:
1-year
Meg Byers
 
5-year
Kathyrn Abbott
Olena Russell
Elizabeth Pavlinsky
10-year
Kendrah Nilsestuen
New Leaders and Groups:
Russell Wrightson,
Fredericksburg API, VA
 
Alexis Ibarra,
Naperville API 
Want to Change a Life?
You can now 
apply online
 and learn more about becoming an API Leader! 
​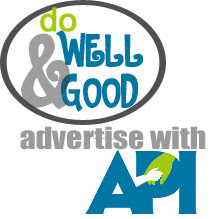 Do Well and Do Good
Support the mission of API and connect with your target audience. Contact
Inspired?
Did you have an  
Aha! moment reading one of these links?
Visit APtly Said, API's blog, or AP Month Central for more details on all this month's activities and resources. We would like to hear from you too, and invite you to share your story and your feedback. Thank you for helping to raise the discussion on the importance of Parental Presence!
Together we can! API is proactively engaged with organizations with diverse missions and activities in order to leverage and expand our work in supporting all parents, children and families to promote secure attachments and strong, positive relationships.
Copyright © 2015. All Rights Reserved.
Stay Connected